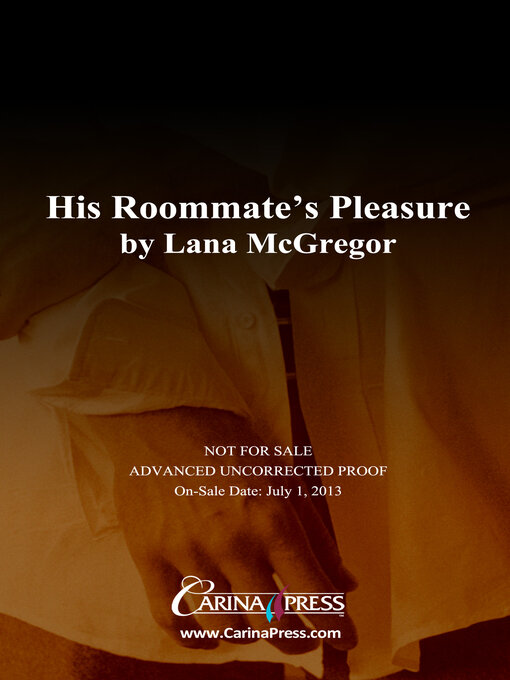 Dale and I got into an interesting discussion yesterday.  I've been reviewing a lot of romance novels lately, both from backlog and from current reads.  This is my genre of the moment.  I just came off of a 2000's contemporary sci-fi kick.  Anywho, Dale kept calling the books erotica, but I disagreed.  They're mainly romance novels.  While they both obviously have sex, a romance novel tends to have more of a story-based focus and usually two erotic scenes.  Erotica, on the other hand, pushes sex front and center and keeps it there.  I mean, there's still a story.  Don't get me wrong about that.  But there's still a lot of sex.
Well, if you'll take a gander at the cover to the left, I'm sure you can make up your own minds.  Yep, erotica.
His Roommate's Pleasure starts when philosophy major Adam has to turn in a paper with like 17 minutes to spare.  His computer is jacked, so he uses his roommate's laptop who is gone for the moment. He gets his paper in, but then stumbles across an open tab.  What could the open tab possibly be?
Survey says: 50 shades of gay BDSM porn.
Then, Roommate Josh walks in.  And instead of it being awkward, suddenly the room gets hot.  I mean, it's awkward for a second, but then Josh's dom spirit takes hold and Adam turns total sub.  They go through the pictures with Adam on his knees, and their evening gets spicier from there.  I don't want to give you a play-by-play of the entire book.  Trust me, McGregor does it fantastically.
Anyways, over time Josh and Adam keep having more sex, but Jock Josh is in the closet.  But they're real flirty all over campus, and they become super close friends.  And then there's more flirting.  And sex. And flirting.  And a little more sex.  Anywho, they ultimately end up together when homophobes at a kegger force Josh to choose between them and Adam.  And then we have a hoes before bros ending.  However, it happens with a minimum of angst which I appreciate
The book is short, only about 30,000 words, but it packs a punch.  There are a few things that don't ring true.  For college students who ostensibly are watching their budgets because they're pretty broke, both of them seem to have a lot of spare money for sex toys and pizza.  I mean, I'm not saying that they wouldn't have any disposable income, but still.  I've been college poor.  That's all I'm saying.
Now, it does deal with some kink.
 Okay, not really.  It's mostly some handcuffs, some dom/sub stuff, collars, spanking, and some talk of crossdressing and the like.  Not vanilla, but not rocky road by any means.  But just a head's up, ya know?
Anywho, as a fun Sunday morning read, this didn't disappoint.  So yay!
JMF Rating: 6.5/10
'Til next time,
-JMF
Note: This book was received from NetGalley in return for an honest review.